Bavaria – May 29th–31st – 2023 
SHIELD project was present at the RISE SD 2023 event, held in Rhodes, Greece, between May 29th and 31st, 2023. Two presentations were made by SHIELD partners, one by Alessandro Marani, from Zanasi & Partners, who spoke about the SHIELD project on violent and hate crimes in religious places (religiously or politically motivated), reporting on the research carried out in the second work package which has been leaded by him and on risk and vulnerabilities assessment of religious places, especially Christian, Jewish and Muslim places. 
The second presentation was given by Rui Teixeira, from the Municipality of Barreiro, who presented "Water Security Planning for the Protection of Places of Worship". He made the link between the work carried out in the Thematic Group on Chemical and Biological Risks in Drinking Water of the ERNCIP/JRC of the EC, at the level of water safety planning, and the objectives of the SHIELD Project on the protection of religious sites and their users.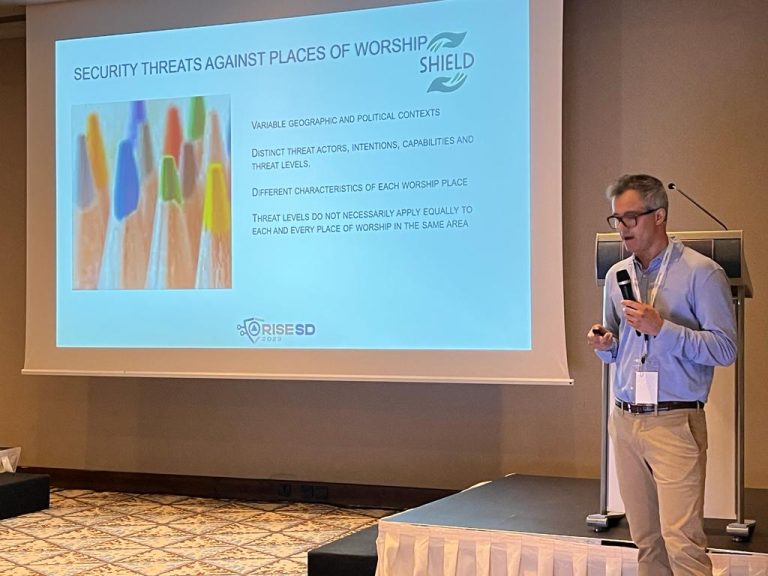 They both showed and stressed the need for protection of places of worship, and the link with cooperation with water operators and for water security planning issues. In fact, a terrorist attack on places of worship could be committed also through contamination of drinking water and not just physical attacks with weapons and/or explosive devices. All types of potential attacks have been taken into consideration.
Both presentations aroused interest in the audience and for addressing water contamination attacks and for highlighting cooperation between stakeholders to tackle less frequent but high impact attacks, which are always the most difficult to deal with and prevent.